ClassPass Fake Listings
We have filed a class action lawsuit in federal court in Manhattan on behalf of businesses who have been listed as partners on ClassPass's website and mobile application without knowledge or consent alleging that the health, spa, and fitness "aggregator" improperly used business' identities for its own use. Countless spas, salons, gyms, wellness centers, and fitness studios may be unaware that ClassPass has been listing their information and services.
According to the complaint, ClassPass's website and mobile application list thousands of businesses with which ClassPass has no relationship or affiliation. The suit alleges that ClassPass engaged in unfair competition and false affiliation, false advertising, and unfair and deceptive trade practices in violation of federal, New York, and New Jersey law.
Examples of Fake Listings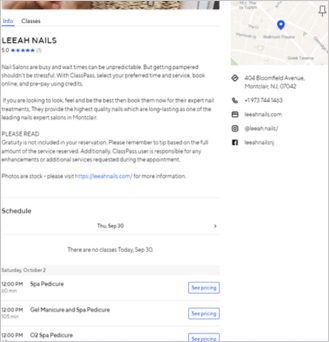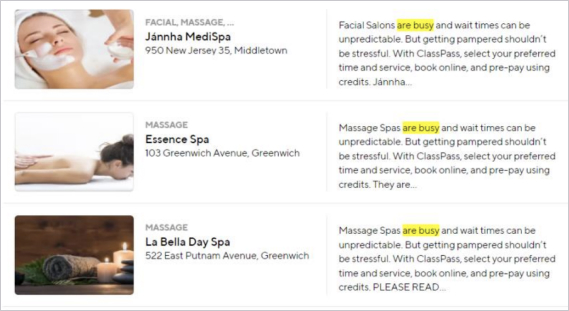 FAQs
A class action lawsuit is a way for a group of people who have suffered similar harms to bring a single collective case and share in any potential award. You become part of a group, with far more potential power than filing a lawsuit on your own—and at no cost to you.
Filing a class action lawsuit allows us to consolidate evidence, witnesses, and litigation expenses to make the lawsuit more efficient and effective. The collective "clout" of the class is typically far more effective than an action by any individual plaintiff.
No! The attorneys work on contingency, and only get paid if the case is successful. Any fees they may be awarded are determined by the court and paid by the defendant.
You may qualify if:
You have seen your business listed on ClassPass's website or mobile application, but you never agreed to partner with ClassPass;
You've had customers attempt to book a service, or attend a class booked through ClassPass, even though you did not partner with ClassPass.
The class action currently only covers businesses. However, if you are a ClassPass subscriber and a business did not accept your reservation, we would also like to hear from you.
Case Contact