Giftly and GiftRocket Fake Listings
We have filed class actions against Giftly and GiftRocket on behalf of businesses that are unknowingly listed on Giftly.com and GiftRocket.com. Countless businesses have reported that customers have tried to use Giftly and GiftRocket gift cards at their places of business, potentially forcing businesses to accept invalid payments or running the risk of upset customers and harms to their reputations.
Example of a business complaint on TrustPilot.com, about being listed on Giftly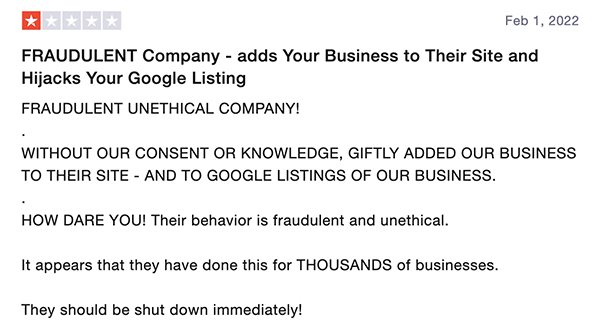 FAQs
A class action lawsuit is a way for a group of people who have suffered similar harms to bring a single collective case and share in any potential award. You become part of a group, with far more potential power than filing a lawsuit on your own—and at no cost to you.
Filing a class action lawsuit allows us to consolidate evidence, witnesses, and litigation expenses to make the lawsuit more efficient and effective. The collective "clout" of the class is typically far more effective than an action by any individual plaintiff.
No! The attorneys work on contingency, and only get paid if the case is successful. Any fees they may be awarded are determined by the court and paid by the defendant.
You may qualify if
Your business was listed on Giftly.com or GiftRocket.com without your knowledge or consent; and/or
Someone tried to use a Giftly or GiftRocket gift card at your business
Case Contact